I love a good hat. It covers my head if I've gotta rush out first thing in the morning and need to tame my bed-head. It helps keep me cool and shield my pale scalp from getting burned when I run. I love a good hat. However, I have an enormous noggin. As in, huuuuuge. When I was in the military I always had to special order my headgear. Needless to say, finding a hat that will ensconce my massive cranium is challenging. Until recently, I contended with hats that were too-tight or perched atop my head like a beanie with a bill.
Then I found JackRabbit Caps. I stumbled across their site while Googling for "big running hat" and quickly fired off an order for one which arrived a few days later. JackRabbit Caps are made in the US, just outside San Diego. They use high-quality materials including a very light-weight wicking material for the body of the cap. The build quality is impeccable. The seams are all sewn over with no stray threads. The inside of the cap is lined with a stretchy headband that easily and comfortably accommodates my sizable skull. Not only that, but the cap was large enough to fit down over my head all the way to my ears -- no more beanie cap look!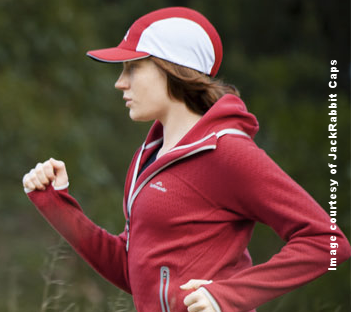 So, how does it perform? Very well. As I've previously mentioned, I sweat a lot. This hat handles it with no difficulty. The technical fabrics do a great job wicking away the moisture and helping everything evaporate. I ordered my first JackRabbit cap about eight months ago and my second about three. I've worn both on long runs and short. I've started wearing my black one as a daily wear. They really are that comfortable. No tugging, sliding or pulling. I scarcely feel them at all. I've washed both caps, in my washing maching, at least a half-dozen times and they look as good as the day I received them. (Note: the instructions recommend hand washing)
JackRabbit offers their warm weather caps in two varieties: wicking and visibility. The visibility caps are just the wicking caps with reflective piping and other accents to help make you more visible at night. They also offer a visor. Furthermore, they offer a wide variety of wool and synthetic winter running caps. Since it rarely gets that cold down here in San Antonio, I haven't had an opportunity to test their warmer head covers.
Overall, I'm delighted with my JackRabbit caps. They're comfortable, fit well, provide exceptional performance and are unexpectedly durable. JackRabbit offers a "Take It For A Run Guarantee": If you aren't delighted with their cap, they'll refund your money. Check out their website at www.jackrabbitcaps.com
Have a JackRabbit Cap or any other suggestions on runners with giant heads? Leave a comment below!